Students Move from "Me" to "We" through Volunteerism
Evidence in support of encouraging youth volunteerism is vast, with benefits ranging from creating a stronger community, better performance in schools on average and long term success through access to mentorship. The culture of volunteerism is on the rise, with younger generations embracing the movement in both traditional and non-traditional variations. The number of teens volunteering doubled over the past 25 years, with a recent poll by Volunteering in America reporting that 4.4 million teens dedicated 377 million hours of service to communities across the country." What does this mean for you? With youth contributing more than 1.3 billion hours of community service each year*, a lot of progress could be made.
Empowering youth to participate in philanthropy sparks a lifetime commitment to community service. The growing trend of student volunteerism is testament to the fact that potential barriers to allowing young people to volunteer are being reevaluated. An estimated 15.5 million youth, or 55% of youth between the ages of 12 and 18, participate in volunteer activities. With 39% of those volunteers considered "regular" volunteers, those who volunteer at least 12 weeks per year[*], opening up opportunities to a wider age bracket is both good for the community and the organization as a whole.
With levels of youth civic engagement growing in tandem with the increased use of social media platforms, more projects and community needs can be promoted and shared by peers. Communication via social media encourages volunteerism, allowing for local, national and global sharing of information, initiatives and partnerships. Students often times drive volunteer efforts, making lasting impressions on communities and causes. These efforts are increasingly effective through active broadcast through social media.
---
[*] "Youth Helping America: The Role of Social Institutions in Teen Volunteering" Corporation for National & Community Service.
________________________________________________________________________________________________________
Improve Your Bottom Line with Strategic Philanthropy
In order to get the competitive edge, companies of all sizes must continue to adapt to reflect changes in consumer behavior. Under the constraints of resources, including time and finances, the "bang for your buck" mentality often prevails, but not all strategies to rise above the noise are equal. Enter Corporate Social Responsibility (CSR). The emerging trend of strategic CSR stands out as a way for companies to support short- and long-term business goals while strengthening existing relationships in communities and fostering new ones. When done well, CSR supports marketing activities, enhances corporate image and builds good will through improving and engaging with communities.
CSR supports marketing activities and positively impacts a company's bottom line. According to a recent study, 80% of Americans would be likely to switch from one brand to another if the other brand is associated with a good cause - compared to just 66% twenty years ago. Millennials (age 18-24) are rated even more likely to switch under the same conditions at a noteworthy 88%. Consumers around the world also believe that corporations should do good work, and that doing so is good business. Globally, 64% of people believe that it's no longer enough for corporations to merely give money away, but that they must integrate good causes into their day-to-day business. All of these numbers suggest that not only must businesses engage in philanthropic activities, but communicate these efforts to the correct audiences.
Furthermore, having a strong CSR plan enhances corporate image and attracts like-minded employees that value contributing to areas of need. Companies that invest in their communities are also investing in the lives of its employees and potential employees. Corporate philanthropy and volunteerism fosters a team building mentality that benefits the workplace. There is a direct correlation between a company's level of involvement in the community and its image rating. A quality CSR plan that is well communicated to its communities will ultimately aid in the achievement of business goals and are more likely to create a loyal following of customers and team members.
It is no longer sufficient to limit donations to an alma mater or to sponsoring the occasional event. The real game changers are those who create giving strategies that have tangible results through getting the team involved in hands-on projects, not just writing checks. Success comes when philanthropic efforts are well researched, communicated to the desired audiences and have results that can be measured.
---
________________________________________________________________________________________________________
More than 215 attendees of Microsoft Dynamics' Convergence in Atlanta's historic Martin Luther King Jr. neighborhood spent the day improving the community and impacting the lives of its residents.
The neighborhood has fallen into a state of disrepair, but the Convergence Day of Service let people know they do matter and that people still care!
Volunteers were able to make needed updates to the Wheat Street Gardens, one of the largest community gardens in the Southeast –located right in the heart of the MLK District! Here's what our volunteers achieved:
· Built a block of new fencing
· Built and planted 20 raised beds
· Built an extension to an existing outdoor pavilion, tripling its size
· Built and painted 10 new benches
· Built a new chicken coop
· Built a new children's pavilion!
Just one block from the garden is a low-income senior living high rise, Wheat Street Towers, and there volunteers made a big difference, too! Volunteers:
· Worked in more than 90 apartments helping to clean, make small repairs and visit with local residents
· Assembled and installed 10 new rocking chairs for the front entrance
· Donated and installed a big screen TV and games for the community/rec room!
Plus, a third group painted the interior of the historic SCLC (Southern Christian Leadership Conference) Women's Building! And yes, all of this was in one day!!!
Then inside the convention center Convergence attendees made a huge impact as well. Within three days in the Convergence Experience Center, volunteers:
· Painted and planted 250 individual pots that were delivered to the senior citizens living in the Wheat Street towers
· Prepared 1000 care packages and messages of hope for mom's and their infants at a nearby homeless shelter
· Assembled 500 food packages for children living nearby who are often fed during the school day, but often go hungry on the evenings/weekends.
________________________________________________________________________________________________________
Over 500

Thorntons

team members completed a major renovation in Fort Lauderdale, FL as part of their Humanitarian Day.
The transformation of the Ann Storck Center included building and painting one-thousand feet of pipe fencing, painting a mural on the playground, painting and redecorating of 26 bedrooms and 12 bathrooms in 4 residence homes for clients, installation of more than 25-hundred sidewalk brick borders, creation of new outdoor music and art classroom space, cleaning all vans, mobile mini and playground equipment and installation of new storage space which volunteers finished off with shelving, building of a new covered outdoor maintenance workshop and new signage for the building.

____________________________________________________________________________________________
Federal City gets facelift from 300 Bechtel Volunteers
300 employees from Bechtel Corporation, the largest construction and engineering company in the United States, committed a day to renovate and restore Federal City in Algiers, LA.
Once a Naval support facility, Federal City is located on the West Bank of New Orleans and is now a mixed use development. Working in conjunction with Rebuilding Together New Orleans and the local YMCA, employees assembled snack packs for troops overseas, refinished tennis courts, restored grandstands, dugouts, bathrooms and a concession stand.
The greatest transformation of the day was the overgrown baseball field. Weeds and brush in the outfield was cleard, dirt was spread and new chalk lines and bases were placed. To add a bit of nostalgia, signs were painted for the outfiled wall with some old-type ballpark brands like Coca-cola, Louisville Slugger and Cracker Jacks. Also to pay homage to the history of Federal City, signs were created for each branch of the military along with local New Orleans brands.
The work day kicked off with a proclamation from the New Orleans City council and the day ended with a ceremonial first pitch.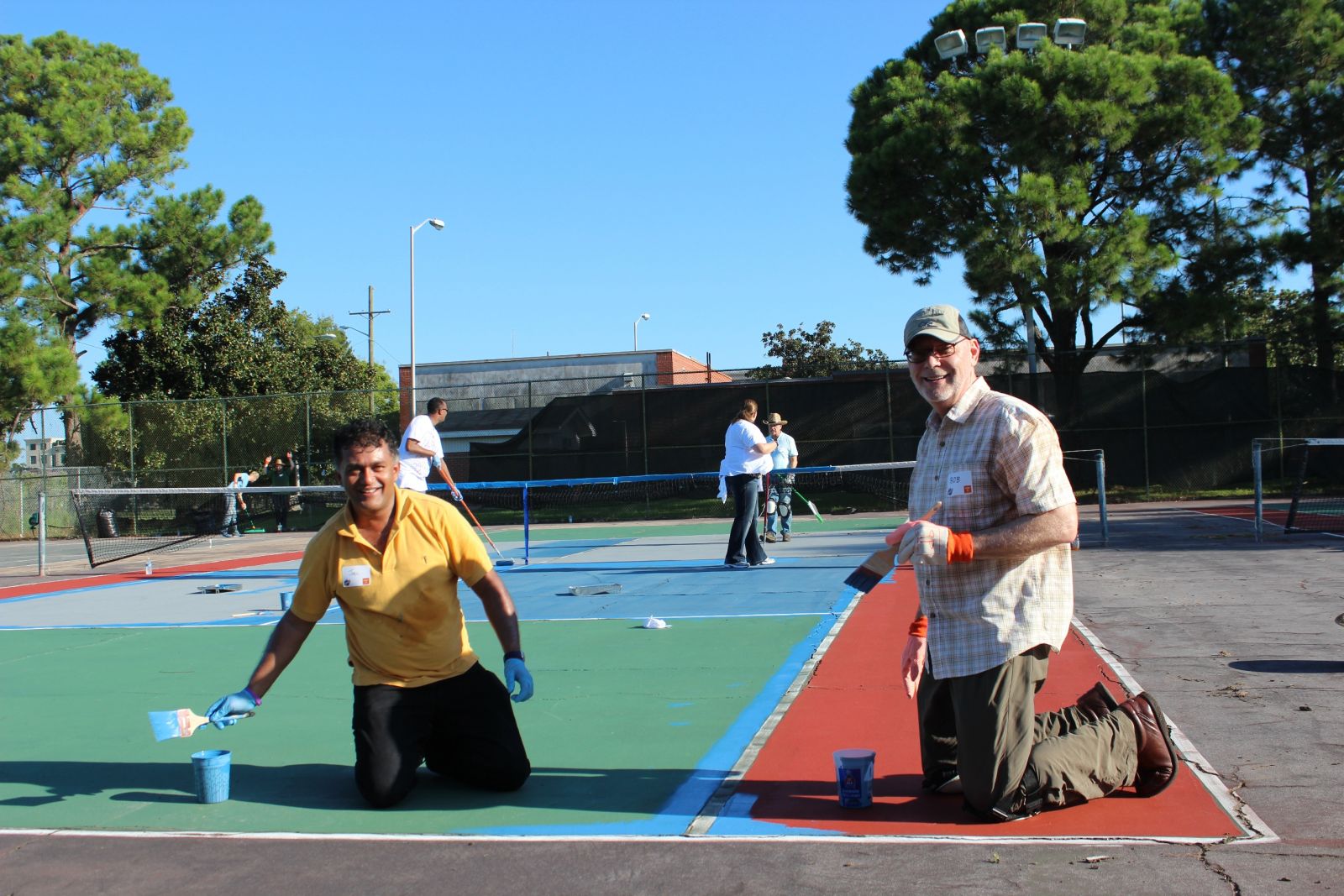 The local paper, The Times-Picayune sent a photojournalist to record Bechtel's commitment. View the photos here: http://photos.nola.com/tpphotos/2013/09/federal_city_recreation_site_g_10.html
For more photos of the day, please visit our Facebook album "Bechtel Corporation."
____________________________________________________________________________________________